To achieve a high conviction portfolio, we don't assume even our best ideas have intrinsic merit – only through a rigorous and repeatable investment process can we be sure.
A selective process which is singular – and rational
To ensure we find companies which exhibit high sustainable profitability, continuous reinvestment in their growth, and strong social responsibility credentials, we take meticulous steps to ascertain their suitability. From a universe of around 1,500 European stocks, we methodically reduce the number of companies at every stage – to reach a concentrated portfolio of 30 to 40 stocks(1).

The investment universe comprises companies operating in the European Union (ex-UK), Turkey and Russia. We are looking to invest in businesses with a market capitalisation of €1 billion or above, but our screening can include smaller companies with a market cap of >€500 million with the potential to grow.

The initial financial screen is based on five key characteristics that include return on investment, the reinvestment ratio, as well as operating margin stability. Companies are then given a ranking according to these factors. This screening process acts as the starting point for further analysis as well as a measure on the aggregate portfolio to prevent style drift.

In-depth fundamental analysis complements the screening to further refine the scope. When we invest in companies, we need to understand the drivers of the business. We meet the management, understand how it operates, and predict, with our own forecasts, how the company will develop in the future.
(1) The Fund may invest in shares of companies that have their registered office, conduct the majority of their business or have business development prospects in the European Union, or Turkey and Russia. The Fund excludes the United Kingdom from its investment universe. As of 30/09/2019, the portfolio held 36 stocks. Portfolio composition may change at any time and without previous notice.
Social responsibility matters
One differentiating aspect of FP Carmignac European Leaders is its socially responsible investment (SRI) approach, that is embedded in the investment process.


While the screening naturally follows Carmignac's exclusion, it also dismisses companies that appear on the Fund's broadened exclusion list such as coal producers, adult entertainment and gambling companies. We also apply additional screening in order to minimise exposure to fossil fuels.

Environment, social and governance (ESG) criteria are integrated both at the analysis and decision-making stages, based on proprietary and third-party ESG research as well as company meetings. Companies are also assessed on their impact on society or the planet, as per the United Nations' Sustainable Development Goals (SDG).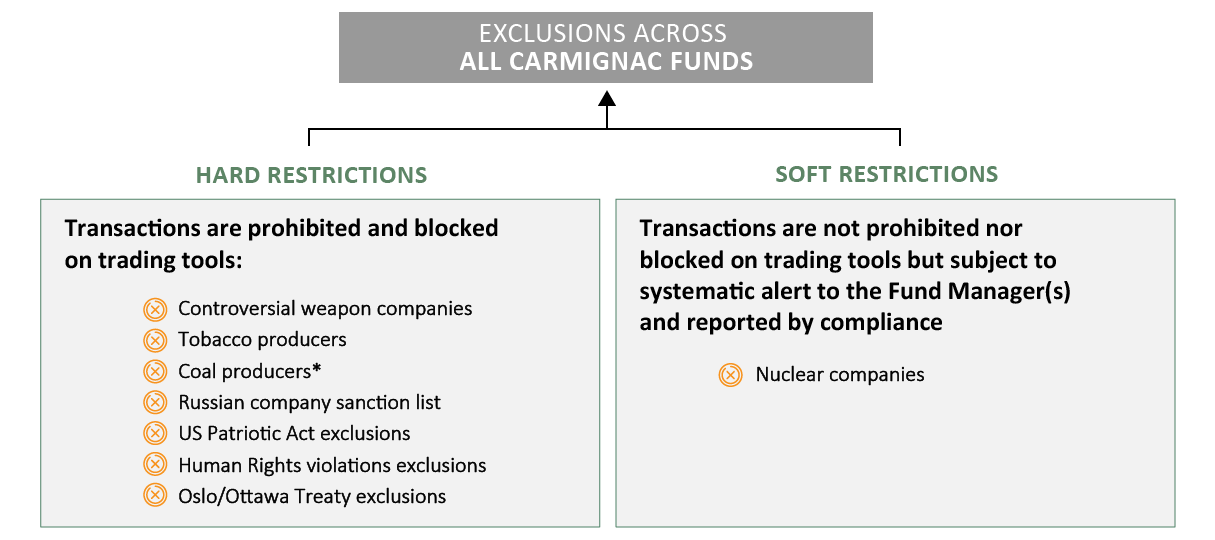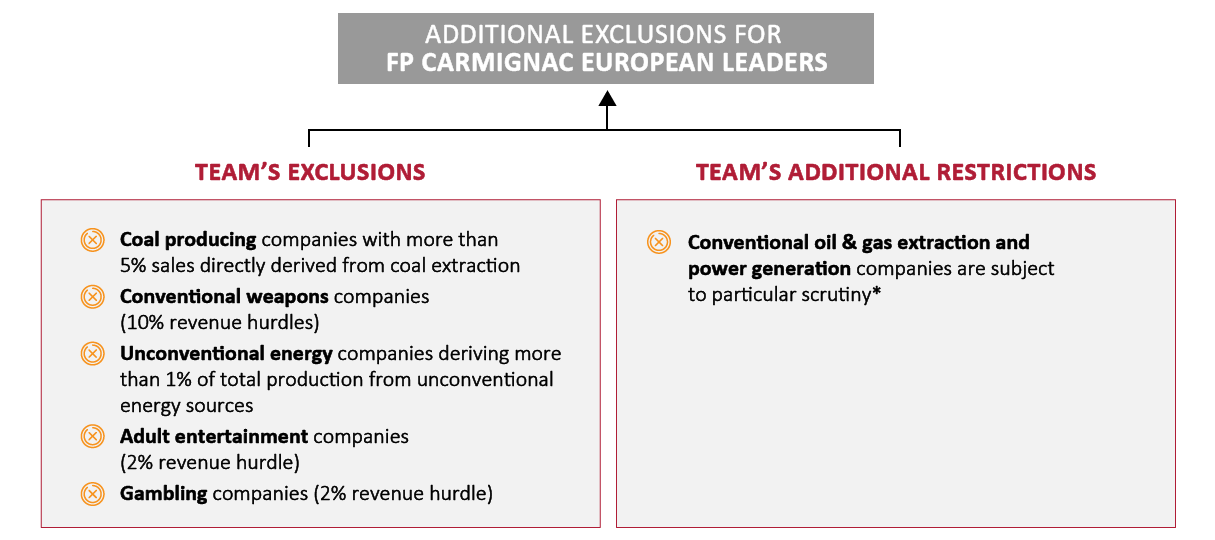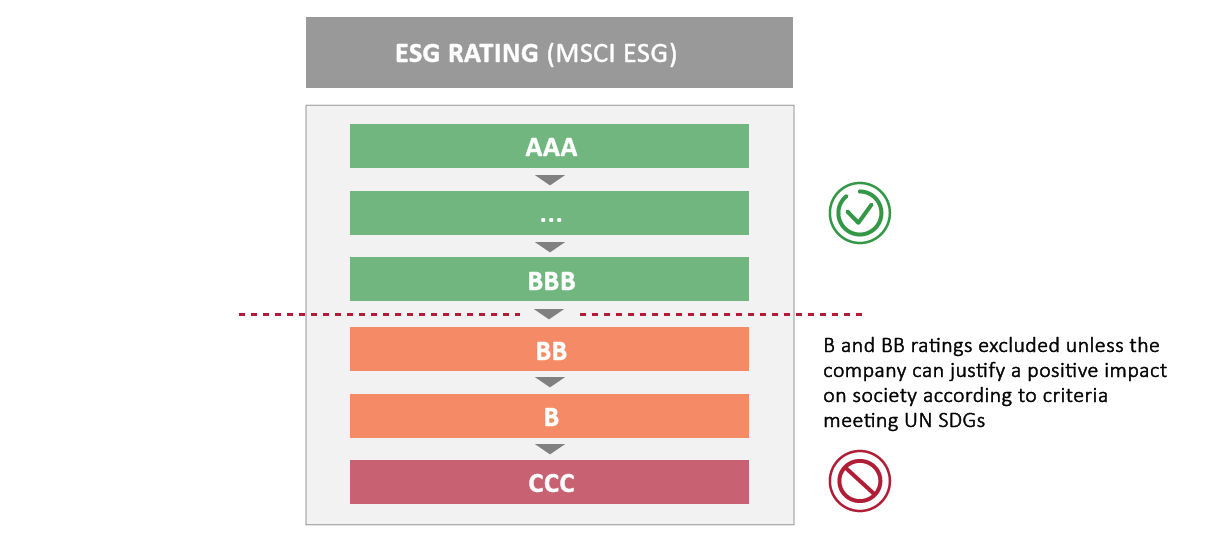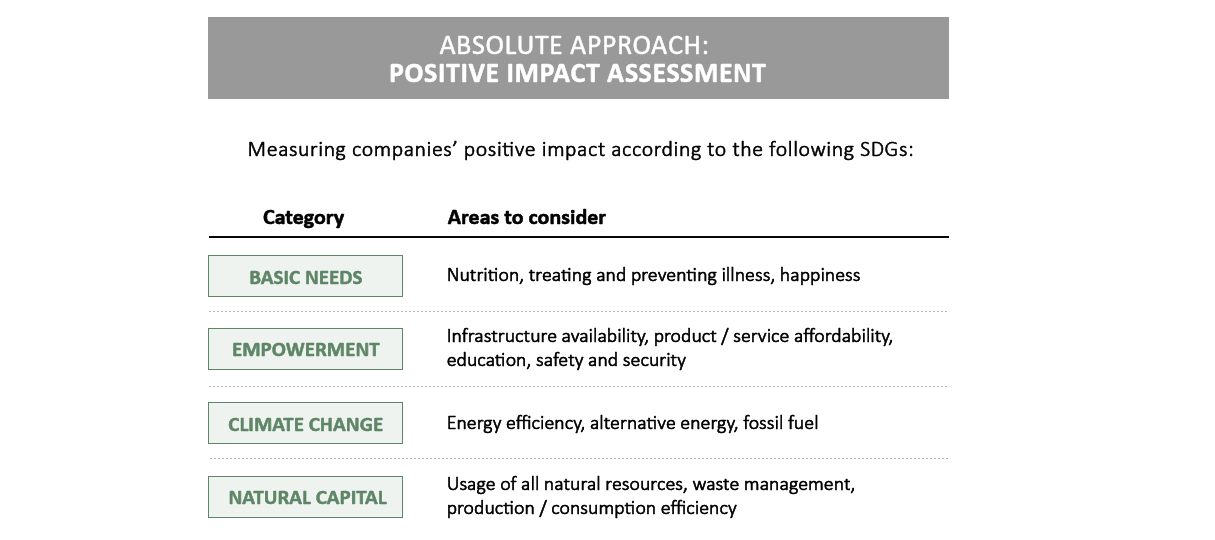 At a glance, a few figures on the Fund
1/4
Only about a quarter of the investment universe actually meet the Fund's quality standards
30-40
Number of stocks which make it into the portfolio after going through the rigorous investment process
86%
Active share of the Fund, demonstrating its non-benchmarked and selective approach
Source: Carmignac, 30/09/2019. As of 30/09/2019, the portfolio held 36 stocks. Portfolio composition may change at any time and without previous notice.
The finest: a result of our distinctive investment process
These two names show the results of our distinctive investment process in action:

KERRY GROUP makes ingredients for food companies. By rejuvenating their product range (less salt, less sugar, healthier) it has thrived: with its return on capital double its cost of capital. By not paying out profit as dividends (80% of its profits are reinvested in new products, small acquisitions etc) its assets have grown. Over the years its stock price has outperformed the market by 500% through compounding and growing appreciation from investors.

VESTAS WIND SYSTEMS is a global leader in sustainable energy solutions – a leading manufacturer of wind turbines, with 16.7% of total sales worldwide. This is a structurally growing market: global electricity generation growth stands at 2-3% per annum and by 2040 renewables should represent 50% of energy production compared to only 7% in 2018. Vestas is gaining market share as pricing pressure tends to favour the biggest actors. It has solid financial ratios: strong balance sheet, negative working capital, high return on invested capital plus a strong positive SRI impact.
Source: Carmignac, Bloomberg, company data, 2019. Portfolio composition may vary over time and without prior notice. Reference to certain securities and financial instruments is for illustrative purposes to highlight stocks that are or have been included in the portfolios of funds in the Carmignac range. This is not intended to promote direct investment in those instruments, nor does it constitute investment advice. The Management Company is not subject to prohibition on trading in these instruments prior to issuing any communication. The portfolios of Carmignac funds may change without previous notice.