Conviction in itself is not enough, but conviction informed by careful analysis, and through long-standing European experience, can be a very powerful proposition.
A leader adept at finding the European leaders
To find the best in Europe, you need someone who understands Europe from the bottom up. Mark Denham – Head of European Equities and Fund Manager at Carmignac – has spent 25 years dedicated to European stocks: as an Analyst, Fund Manager and Team leader in this area.
Picking the finest stocks requires deep analytical skills. Ensuring they all work together in a portfolio requires a rare aptitude. With a blend of asset management knowledge and institutional experience, Mark has the expertise needed to analyse the fundamentals of companies and uncover what makes them more competitive.
Mark manages not only the FP Carmignac European Leaders fund, but also other European funds at Carmignac. He has forged a strong track record, both at Carmignac for the past three years – he has been awarded a Citywire AA rating for his three-year risk-adjusted performance to 31st December 2019 – and at Aviva Investors (UK), where he was managing approximately €5billion through institutional mandates, as well as an OEIC and a SICAV.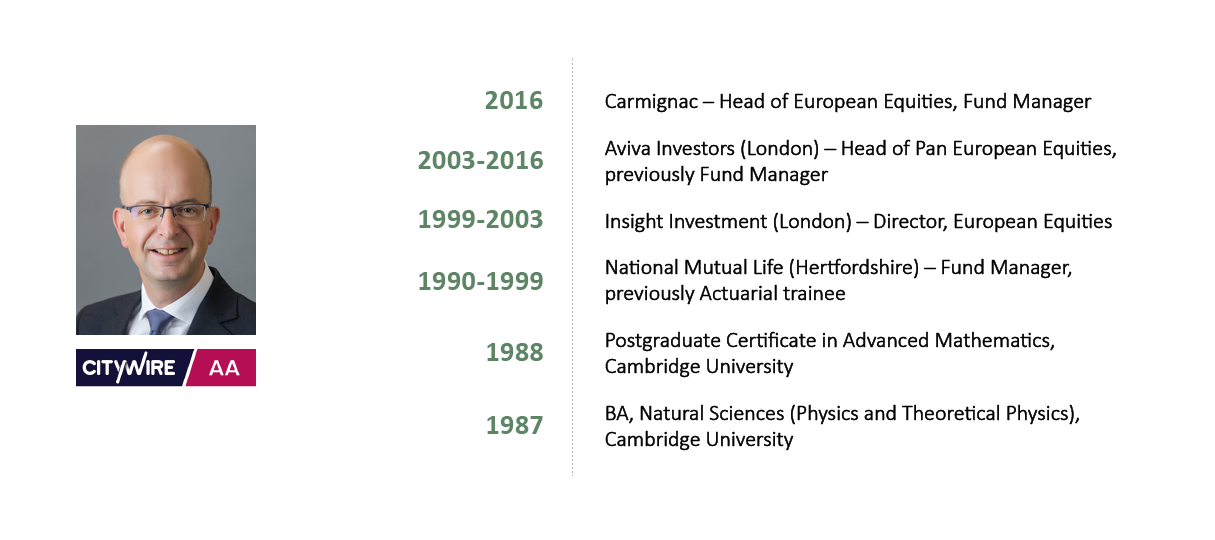 Mark Denham's resume
Source: Carmignac, Citywire. Copyright: Citywire – Mark Denham is rated AA by Citywire based manager's three-year risk-adjusted performance to 31st December 2019. The reference to a ranking or prize, is no guarantee of the future results of the UCIS or the manager.
A shared vision, and wide-ranging talents
To find the leaders in Europe today demands expertise, to predict tomorrow's leaders requires a holistic vision.
Capturing Europe's finest requires a team with a unified purpose – and diverse strengths. Mark does not work alone; he can draw from a deep pool of expertise:


Mark's own European Equities team – Portfolio Manager Malte Heininger and Analysts Juhanna Kaikkonen and Seyi Osoba

The Strategic Investment Committee – the CIO and Head of teams select medium-term top-down convictions and ensure that the conclusions of our analyses are well reflected in the portfolios

Carmignac's entire management team – More than 40 Fund Managers and Analysts, sector specialists and other investment experts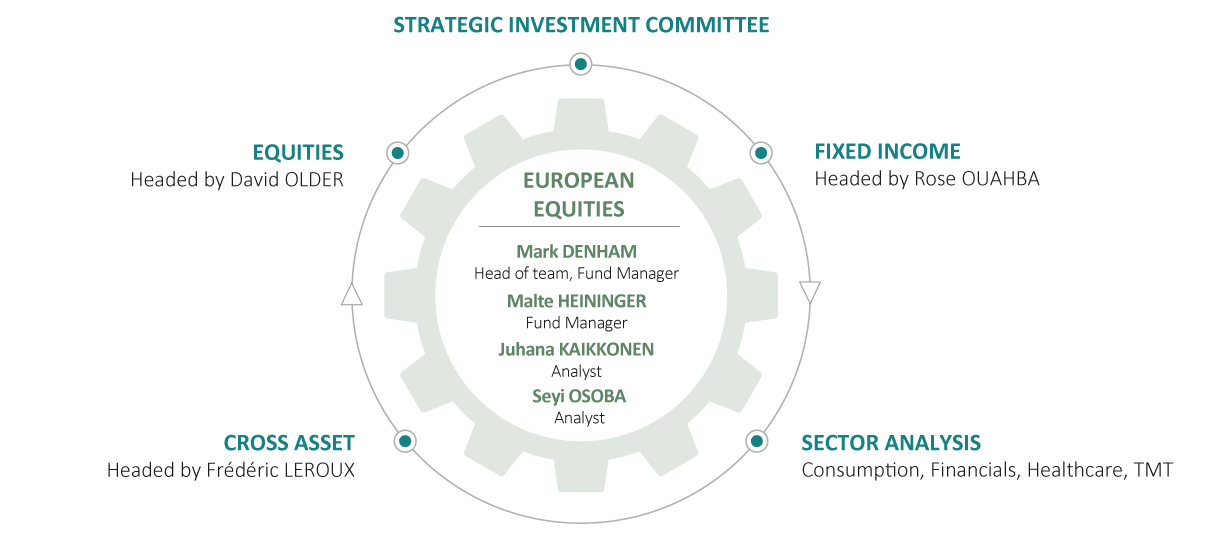 The resulting mix of nationalities and experience is a powerful combination – enabling Mark to identify the finest companies with superior risk/return profiles for the fund. As evidence, Carmignac has received a Gold rating in the Equity-Europe Sector by Citywire, based on the rolling risk adjusted performance of Carmignac across the sector, over the last 7 years.

Source & Copyright: Citywire – Carmignac is Gold rated in the Equity-Europe Sector by Citywire for their rolling risk adjusted performance, across the sector, over the period 31/07/2012 – 31/07/2019. The Group ratings are based on the risk adjusted performance (at a longer time frame than FM ratings: minimum of 3 year up to a maximum of 7 years). Citywire looks at the performance of all managers who run funds in the sector considered, then add up and average their individual scores to produce a group score. The ratings are updated twice a year. The reference to a ranking or prize, is no guarantee of the future results of the UCIS or the manager.
A team that looks beyond convention, to act with conviction
A hallmark of how the team operates is their entrepreneurial spirit, one of Carmignac's founding principles. This comes to life in daily meetings, an inspiring and collaborative environment where fresh ideas are presented and picked apart. Insights are challenged, going against the consensus is encouraged, and being adaptable keeps the engine running.
Discover more on Carmignac's culture and DNA: