Flash Note
Argentina has been the positive surprise of 2015. The unexpected election of opposition candidate Mauricio Macri is a clear positive for the country and might bring an end to a dark period of isolation since its default in 2001. Macri's presidential team will probably put Argentina back on track to become one of the most promising frontier countries over the next few years.
Key Takeaways:
After years of a cautious view on Argentina, we now believe that the country has a good chance to get back on track to becoming one of the most promising frontier countries over the next few years.
A lot of progress has been made by Macri's team and the probability of an improvement in economic fundamentals and the investment climate has increased in our view.
Important challenges are still ahead. Primarily containing inflation which could jeopardise the recent progress. The government will have to find the subtle balance between keeping inflation under control and gradually reducing the fiscal deficit while avoiding an economic slowdown.
Macri: a new hope
The new President has put together a high-quality cabinet, which bodes well given the challenges at hand. Topping those challenges is the country's balance of payments and historic fiscal deficit. Argentina spent years grappling with such a scarcity of dollars that it was finally compelled to introduce capital controls, if only to keep a bad situation from getting even worse. To lessen that scarcity, the government needs to revitalise all economic activities capable of bringing in foreign currencies – such as agricultural exports for example. Recently, the government also made the wise choice of lowering export taxes.
Mauricio Macri's administration has already begun quickly started to deliver its promises and things are moving into what we believe to be the right direction. Among the first positive steps, the Macri led government has removed restrictions on foreign exchange transactions imposed in 2011, liberalised the exchange rate (the Argentine Peso is down 15.5% versus the dollar year-to-date¹) and more recently made progress towards finalising external financing arrangements. These were crucial steps and they arrived faster than we, and markets, expected. These policies should successfully address the country's external imbalances and support growth in the short term. Other measures like the reduction of export taxes and some subsidies, the upcoming VAT reductions, and the expansion of welfare programs will however keep pressure on the fragile fiscal situation which we monitor closely. Currently the fiscal deficit stands at 5.8% of GDP (for 2016, the government target is to reduce the fiscal deficit to 4.8% of GDP).
What to expect going forward?
Key next steps include containing the inflationary impact of the currency adjustment, particularly with the ongoing wage negotiations. Inflation is heading towards 30% year-on-year in January (according to an index produced by the city of Buenos Aires) and we follow the latter carefully as spiralling inflation could leave the country stuck in its imbalances. We do not ordinarily like high inflation countries, however, Argentina may prove an exception as long as the government can manage the difficult twin challenges of keeping wage rises below inflation and gradually cutting subsidies to improve the current account.
The devaluation is happening¹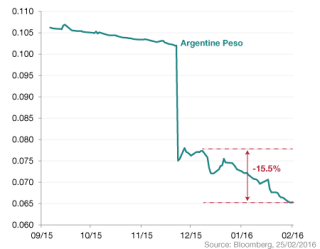 Argentina's burning challenge: Inflation¹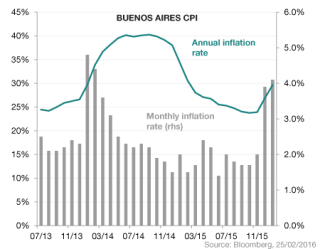 We believe that an instant and all-encompassing resolution of Argentina's imbalances is hardly possible and anyway not the right approach. Fully reducing the huge subsidies and stopping the fiscal printing press for example imply a major negative impact on the economy and probably a major resistance from local governments and congress. The government will have to find the subtle balance between keeping inflation under control and gradually reducing the fiscal deficit while avoiding an economic slowdown.
Furthermore, even if the much needed reforms are coming in fast, they will not be, on their own, sufficient to revive Argentina's economy: export growth, containing inflation, a recovery in commodity prices and regional trading partners' growth will also be determining factors. But the country stands out in the crowd: a lot of progress has been made and the chances of the country gradually turning around have increased. In our view, opportunities have always existed in this country which offers numerous underpenetrated sectors. However, the improving economic fundamentals and investment climate provide opportunities to invest in Argentina once again.
Our positioning
Carmignac Emergents

is invested in MercadoLibre, the undisputed e-commerce leader throughout Latin America. US and Chinese giants are nowhere to be seen and seem resigned to this given MercadoLibre's unparalleled success. This company unequivocally meets all of the Fund's investment criteria, to which we adhere as strictly as possible. It offers solid growth prospects (+20% revenue growth in 2015 despite a deteriorated Brazilian economy), generates high cash flows so that it can self-fund its growth, and is debt-free. We met the management teams during our visits to Argentina, Brazil and Mexico, and this merely reinforced our already very positive opinion.

Carmignac Portfolio Emerging Discovery

has stakes in IRSA, a real estate company focused mainly on commercial real estate, and in Cresud, likewise a property firm but one with extensive agricultural land holdings. Those two investments stand to gain from the lower duties on agricultural exports and the gradual lifting of capital controls.