Flash Note
GLOBAL EQUITIES
In a context of strong polarization of the IT sector, a rigourous stock picking mainly based on secular growers able to deliver long term performance is key.
Key Takeaways:
A "Winner Takes All" dynamic: only secular growers will be able to deliver long term performance and navigate through the challenging macro backdrop
Polarization of the IT sector creates the potential to capitalize on both winners and losers, providing superior risk management
Price volatility within the IT sector following Q1 earnings created new investment opportunities that Carmignac capitalized on
High visibility stocks in the IT sector and especially in the Internet area are a long term conviction in our global Funds. The IT sector represents 23% of Carmignac Investissement and 9% of Carmignac Patrimoine as of end of April. The strong polarization of the IT sector requires a rigourous stock picking mainly based on secular growers able to deliver long term performance.
Our Fund Manager, David Older, responsible for the global Funds' exposure to the communications, IT, media and Internet sectors benefits from a strong experience in the tech sector. The team was recently strengthened with the arrival of Henrik Fridlund as a sector analyst.
IT Companies' Earnings in a Fragile US Growth Environment
The debate on the US economy's resilience clearly continues and the IT earnings season is a good illustration.
For the last few months, our view on the global economy, and especially on the US, has been very cautious. Economists are starting to agree with our early 2016 scenario of growth remaining under 2%. US profit margins have dropped from 10.6% at the end of 2011 to 7.6% today. So we are now, logically, seeing a lasting change in the investment cycle, with profit margins being the main influencer.
Consequently, markets are now exposed to global earnings pressure and some IT companies suffer from macro concerns as confirmed by the latest earnings releases. Consequently, the sector is highly volatile: strong outperformances for the high visibility stocks which beat expectations, sharp decline for the others. The key in the sector is to remain selective.
Our portfolio construction fully represents our view of a low and fragile global growth as it is composed of stocks that have visible long term earnings potential relatively independently of economic cycles. Managed by David Older, our IT stock selection reflects this philosophy.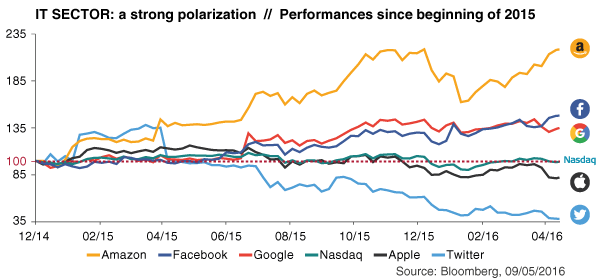 "Winner Takes All"
​The Internet sector now has more of a "winner takes all" dynamic where the dominant players are able to capture a very large share of the rewards, and the remaining competitors are left with very little. Moreover, in a weak global growth environment, only secular growers like Facebook and Amazon will be able to deliver long term performance and to navigate through uncertainties. Both companies continue to be disruptive in their legacy businesses (Facebook's original site and Amazon's Retail activity) as well as through new initiatives (Instagram/Messenger/Virtual Reality for Facebook and Cloud Infrastructure for Amazon).
Amazon's Q1 earnings revealed the continued strength in both the retail and cloud businesses; both "pillars" showed ongoing impressive growth married with ramping profitability, which had been somewhat of a disappointment in the prior quarter. With the enormous addressable markets of global retail and global technology infrastructure, we see a long runway for Amazon to take share from competitors with its disruptive business model.
Facebook registered a clear beat on all metrics for its Q1 earnings. On average, users are now spending 50 minutes per day on the Facebook properties, which are rapidly becoming central not only to users communication needs, but also to media consumption habits as Facebook can create a "curated" media experience for both text and video. 90% of Facebook's revenues now come from mobile devices, where consumers spend increasing time, and we see 2016 as a period of ramping monetization of Facebook's Instagram property.
While Alphabet (Google) underperformed on Q1 results, we remain constructive on the long term story which is based on the company's central role in mobile usage habits (search, maps) and the incredible strong growth and monetization opportunity of YouTube.
Risk Management
In a volatile sector, risk management is also a key. Avoiding the most vulnerable stocks and generating Alpha are part of this risk management. The strong polarization of the IT sector creates some specific opportunities between winners and losers. On our targeted short strategies, we focus on secular disruption, such as from Amazon's disruption of the legacy retail and technology sectors. As of the end of April 2016, targeted short strategies in the IT sector represent less than 1% of Carmignac Patrimoine and less than 2% of Carmignac Investissement. We sometimes manage market risks very actively through equity exposure. When we judge that in the short term, risk asymmetry becomes less unfavourable we can also use global indexes (i.e. Nasdaq) in order to hedge our IT exposure.
Market volatility creates investment opportunities
After a 40% correction on Q4 results in February, our investment team revisited the Linkedin investment case and built a sizeable position on the weakness. We believe that Linkedin's new mobile app will generate a vastly improved user experience, that the core "Talent Solutions" segment will remain a strong grower, and that the key "Sales Navigator" growth initiative is showing better adoption trends than consensus expectations.
Source: Carmignac, 11/05/2016