Flash Note
China has moved to a more "market-driven" USDCNY fixing mechanism. On August 11, 2015, the PBOC surprised the markets with a sudden 1.9% USDCNY devaluation, the largest one-day move since 2005.
Key takeaways
China has moved to a more "market-driven" USDCNY fixing mechanism
While the PBOC has denied further intention to devaluate, we can still see some depreciation pressure
We expect that CNY devaluation will create a lot of divergence within the different Chinese sectors
The impact on our EM Funds was limited as our positions showed resistance to the markets' down move and we had already reduced our Chinese exposure
We remain cautious and highly selective in China
China has moved to a more "market-driven" USDCNY fixing mechanism
On August 11, 2015, the PBOC surprised the markets with a sudden 1.9% USDCNY devaluation, the largest one-day move since 2005. It was followed by the announcement of the adoption of a new USDCNY fixing mechanism including foreign exchange dealer information on currency supply and demand, as well as closing quotes. This change suggests a more "market-driven" approach to set the fixing. In the past decade, the PBOC was using a rigid CNY fixing mechanism with a trading band to manage market expectations. After a 3 day slide, the downward move stopped and the USDCNY stabilized around a 6.39 level.
Evolution of USDCNY over the last year (inverted scale)
CNY devaluation, a surprise move?
CNY's devaluation was not a totally unexpected move as the depreciation pressure was high with weak economic momentum and worsening exports growth. However, the one-off move was not expected.
Why a devaluation?
There are several reasons why the Chinese government has chosen the CNY devaluation route:
In recent review reports the IMF outlined its concerns on the Chinese government's very administrative equity market rescue actions and rigid CNY fixing mechanism.
More "market-driven" fixing mechanism is necessary for the Chinese capital account to open up further and for more efficient financial reforms.
The CNY has been largely appreciating vs. other EM currencies in recent years. Given a weaker macroeconomic data set (sluggish exports growth, weak domestic demand) currency depreciation is a welcome expansionary tool.
The potential reduction of CNY carry trades stemming from Fed rate hike concerns and consequent capital outflow added to the depreciation pressures on CNY.
China and EM FX Index against the US dollar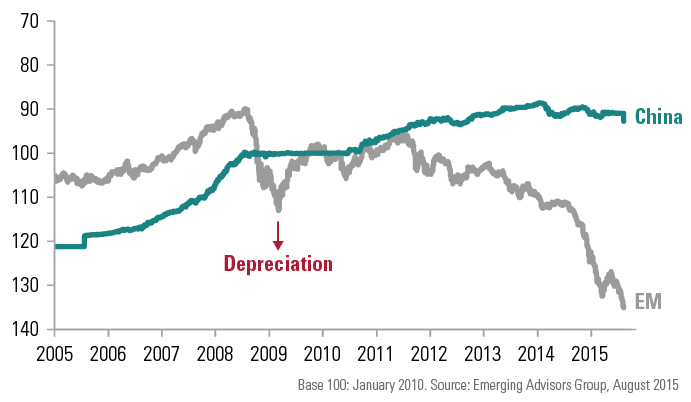 Why a sudden rather than a gradual depreciation?
A sudden one-off depreciation seemed necessary for the following reasons
There was a persistent gap between the PBOC's fixing rate and market closing rate. The devaluation enabled the Chinese authorities to eliminate this gap.
Letting the CNY depreciate over a prolonged period would increase speculative capital outflow and further increase depreciation pressure.
Even though the actual component change in the basket of reserve currencies will not take place before the 30th of September 2016, the IMF's decision on CNY's inclusion should be announced in November 2015, giving little time for Chinese authorities to address the IMF's concerns.
CNY/USD Spot deviation from PBOC fixing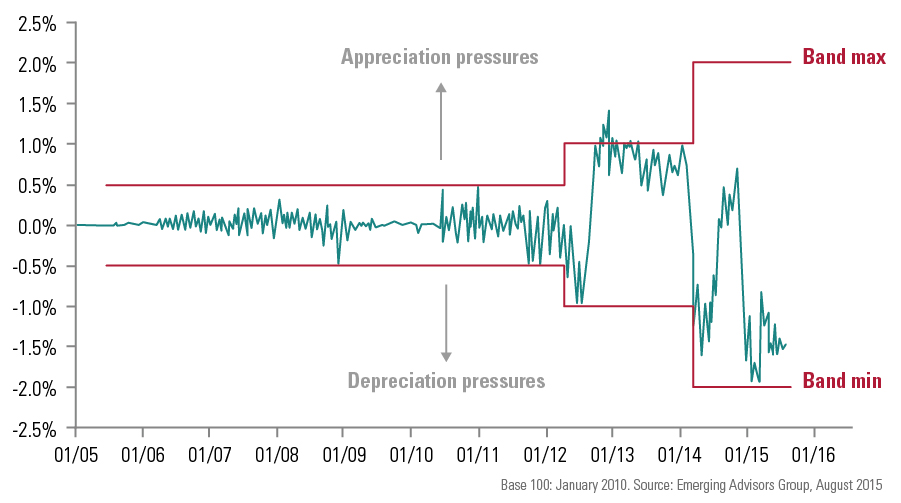 How much could the CNY depreciate further?
The PBOC official message is that the depreciation pressure has been largely released and has denied market speculation about a potential 10% devaluation to support exports. However, we can still see some depreciation pressure going forward.
While some macroeconomic fundamentals do not call for a material further depreciation (the current account surplus is 3% and is improving as well as the trade balance), foreign reserves have fallen and private debt levels are still rising. The probability of a further depreciation will increase should these fundamentals deteriorate further.
Nevertheless, the Chinese authorities still have other expansionary tools: fiscal easing, rate cuts, decreasing reserve ratios (RRR).
China charts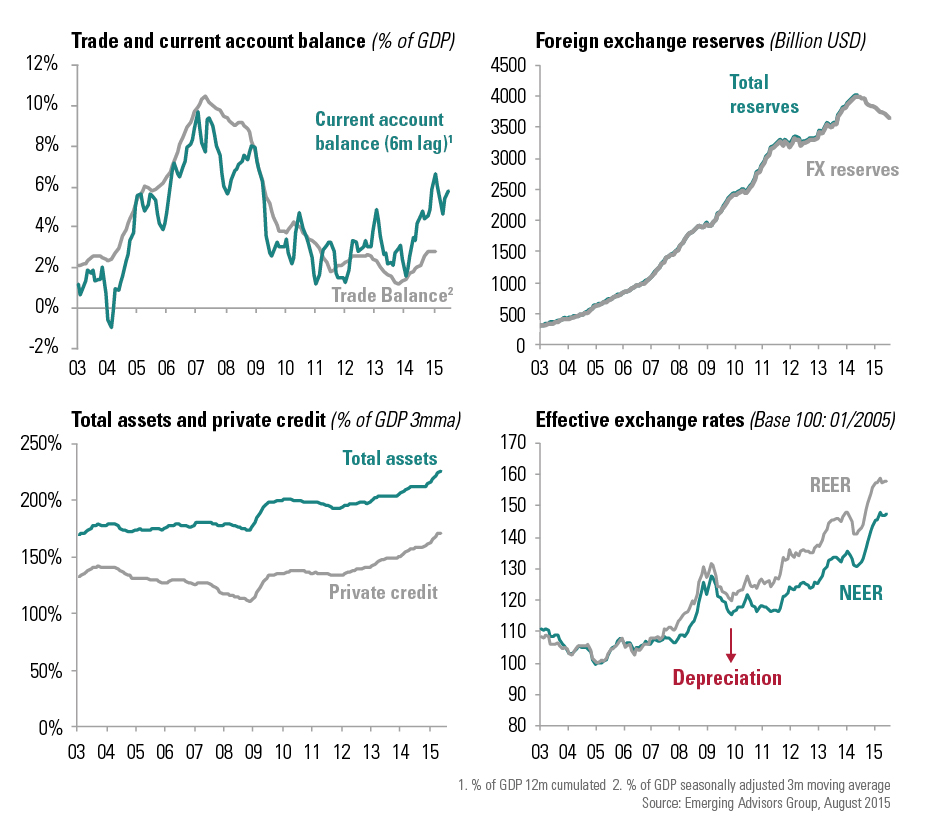 Impact on other EM currencies?
We expect further EM currency depreciation going forward
We have already seen selling of TWD, KRW and MYR due to capital flight explained by risk aversion.
CNY devaluation combined with the prospect of higher US rates and subdued global demand put downward pressure on other EM currencies.
We anticipate a continued weakness of commodity-linked EM currencies such as South African Rand, Brazilian Real and Colombian Peso due to weak infrastructure and construction growth. Note however that we are underweight commodity sectors, with very little exposure.
YTD performance of Asian currencies vs the USD (as of 19/08/2015)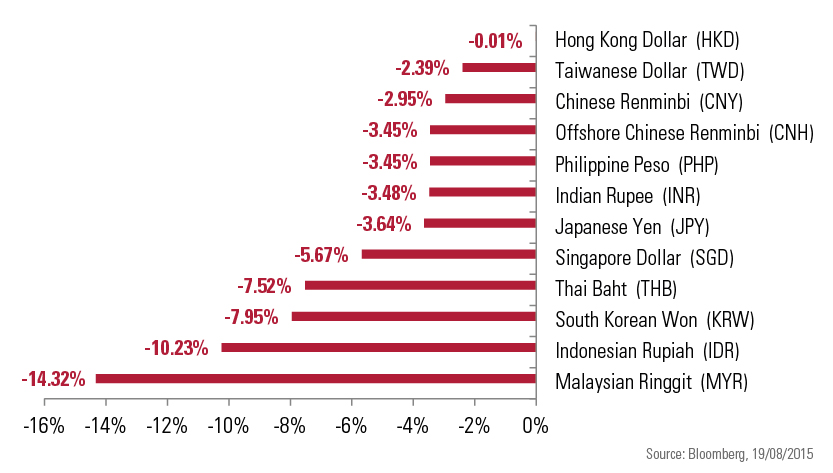 What is the impact on Chinese assets?
While the devaluation has had a negative impact on all Chinese assets, with market expectation of further depreciation, we anticipate opportunities in the future.
Over the longer run, we expect the devaluation move to create a lot of divergence within the different Chinese sectors. Indeed, while some sectors will benefit from the devaluation, others will be negatively affected.
Companies that book earnings in USD and cost in CNY (Energy companies) will benefit from this situation and, on the contrary, companies that have USD denominated debts and revenues in CNY (Property, Airlines) will be penalized.
Implication on our portfolios
In the short run, some of our Chinese holdings might be hurt but no significant impact is expected.
Indeed, we have already largely decreased our Chinese exposure: Carmignac Emergents's has 16.0% net exposure to China, Carmignac Portfolio Emerging Discovery 9.5%, and Carmignac Porfolio Emerging Patrimoine 9.2%, all being underweight positions compared to their respective reference indicators 1 .
In Carmignac Emergents, we have also initiated some hedges against the most vulnerable EM currencies like the South African rand (ZAR), the Colombian peso (COP) and the Turkish lira (TRY). All of these countries run a current account deficit. In addition, the ZAR and the COP are closely linked to commodity prices and continue to suffer from the oil price weakness. The TRY on the other hand is subject to political and geopolitical risks.
Overall, our emerging Funds are conservatively positioned, with 87% equity exposure for Carmignac Emergents, 84% for Carmignac Portfolio Emerging Discovery and 34% for Carmignac Portfolio Emerging Patrimoine 2 . We are also cautious and highly selective on China. We believe that absolute growth is not picking up and that developed market growth is not comforting, while Chinese domestic consumption is waning. In July, Chinese exports were down 8% yearon-year and we do not see external demand and external trade improving in the short term.
For Carmignac Investissement and Carmignac Patrimoine, the impact is limited as well, by the nature of the stocks held. With risk management in mind, we have implemented some hedges against China risk and a general emerging contagion (see Global Funds Flash Note).
1 Chinese exposures as of 18/08/2015
2 Equity exposures as of 20/08/2015
Going forward we will watch closely CNY moves, Xi Jin Ping's US trip and SDR inclusion. A 3% depreciation will not revive the export sectors and we do not expect a CNY collapse given the Chinese current account surplus and the overall quality of macroeconomic fundamentals. However, the size of the Chinese economy raises the stakes for China's trading partners in case of a further devaluation. Hence our cautious risk management approach.