Flash Note
What does it mean?
An active and global investment approach, that relies on great flexibility in managing exposures through a benchmark agnostic philosophy.


Pertinent tool kit to manage exposures through wide modified duration brackets & use of credit derivatives

GLOBAL INVESTMENT UNIVERSE

Developed and emerging markets Sovereign and corporate bond

No bias to any curves, regions or economic sectors

* The Fund has a comparative benchmark.
What is the benefit?
An unconstrained approach provides FP Carmignac Unconstrained Global Bond the ability to navigate extremely diverse market environments (see our proof of concept below).
For whom?
For investors looking for bond performance drivers at a time when yields are extremely low and subject to volatility spikes. FP Carmignac Unconstrained Global Bond has an investment horizon of two years and may be suitable for investors seeking higher yields outside Europe, which is undergoing historical financial repression, since it aims to benefit from both rising and declining rates and to seize bottom-up opportunities through our disciplined risk management framework.
Flexible allocation
FP Carmignac Unconstrained Global Bond navigates different market conditions thanks to a pertinent tool kit. For example, wide modified duration brackets that can go from negative to positive territory are used with the objective of generating positive performance even in a rising rate environment and containing the downside when facing market risks.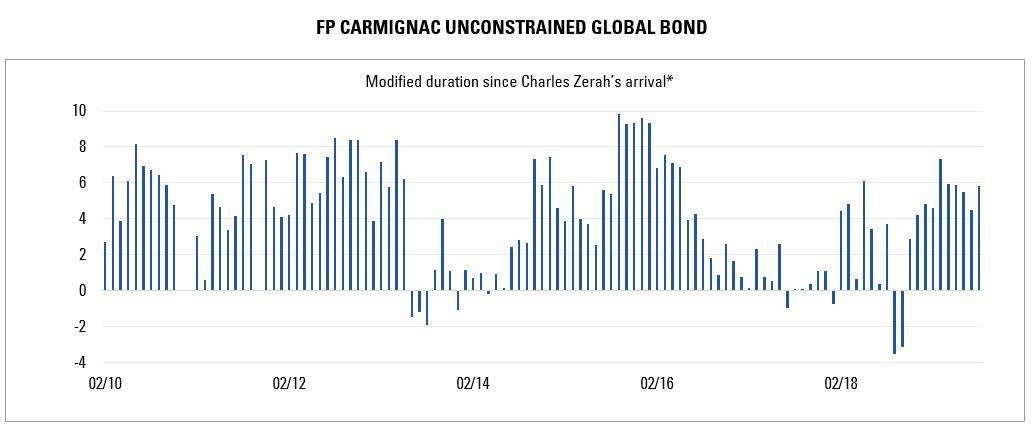 Global Investment Universe
FP Carmignac Unconstrained Global Bond deploys a global fixed income strategy which exploits a broad and diversified investment universe to identify opportunities across the globe. Our Fund Managers seek to implement interest rate, credit and, for those authorized to do so, currency strategies (FP Carmignac Unconstrained Global Bond) in both developed and emerging markets.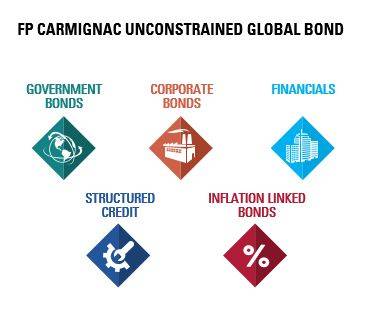 Benchmark agnostic
Our investment approach enables us to build high-conviction portfolios that are based exclusively on our top-down views. Having latitude in terms of regions, sectors and asset classes gives us the opportunity to unearth best performance drivers in both bull and bear markets.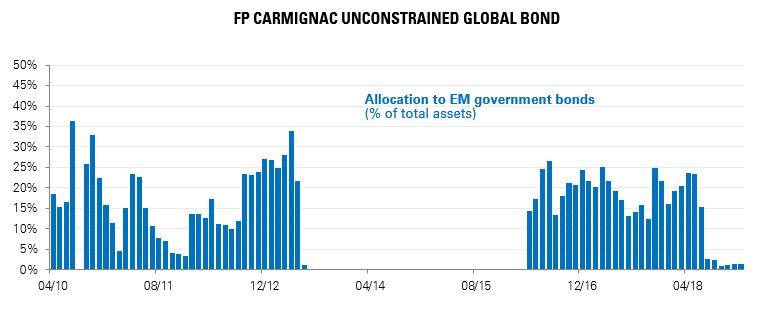 FP Carmignac Unconstrained Global Bond
Main risks of the Fund
CREDIT:
Credit risk is the risk that the issuer may default.
INTEREST RATE:
Interest rate risk results in a decline in the net asset value in the event of changes in interest rates.
CURRENCY:
Currency risk is linked to exposure to a currency other than the Fund's valuation currency, either through direct investment or the use of forward financial instruments.
DISCRETIONARY MANAGEMENT:
Anticipations of financial market changes made by the Management Company have a direct effect on the Fund's performance, which depends on the stocks selected.
The Fund presents a risk of loss of capital.