Funds in Focus
What is Carmignac Portfolio Unconstrained Global Bond?
The Fund is managed by Charles Zerah, who has more than 20 years of bond market experience.
Carmignac Portfolio Unconstrained Global Bond invests across

global fixed income

and currency markets
Its total return approach is implemented through a

flexible and conviction-driven

investment style
The Fund's ambition is to

fully exploit opportunities

across varied market conditions
How does the Fund work?
Charles benefits from the renowned macro-economic expertise of the management team. Investment ideas result from combined efforts of a tight-knit investment team.
Access to a wide range of performance drivers
The Fund disposes of a broad and diversified investment universe.
This allows Charles to unearth and implement the best interest rate, credit and currency strategies.
Benefiting from a flexible investment process
Thanks to a relatively unconstrained investment process, Charles is able to invest in selective pockets of value in both bull and bear fixed income markets.
Opportunistic and active approach
Charles Zerah implements long, medium and short-term strategies, in-line with the dynamic nature of the investment style.
The Funds' active and discretionary management focuses on:
strategic and tactical positions
arbitrages on international fixed income and currency markets.



The opportunistic approach enables the Fund to fully exploit investment convictions.
A reinforced fixed income team to generate alpha.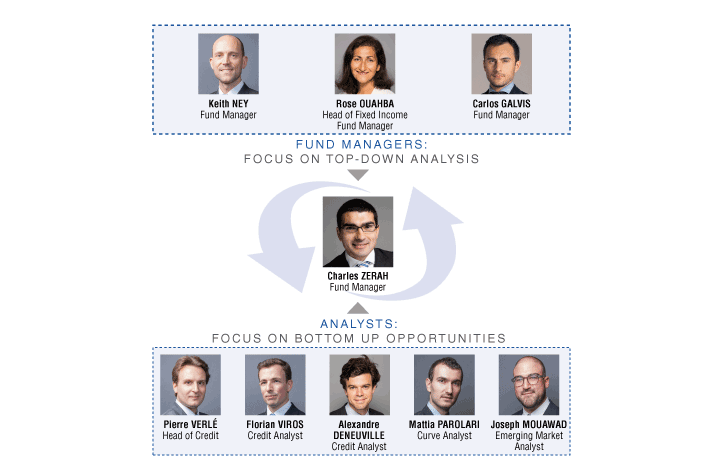 Overview of Fund's performance
The objective of Carmignac Portfolio Unconstrained Global Bond is to outperform its reference indicator* over a period exceeding 2 years.
A sturdy track record over 5 years Performance from 31/12/2010 to 31/12/2015

How to invest?
Are you an asset management professional or institutional investor?
Access to my pro space
Contact us
Are you a private investor?
Our Funds are distributed by financial advisers and intermediaries. Simply indicate to your adviser the ISIN code of the Carmignac Gestion Group Fund and share class you're interested in, and they will provide you with the information you need as well as advice based on your investment needs and objectives.
Where can I find the Fund's ISIN code? Visit the Fund Page and select the Characteristics tab.