Fund News
Rose Ouahba and David Older
Fund Managers of the Patrimoine strategy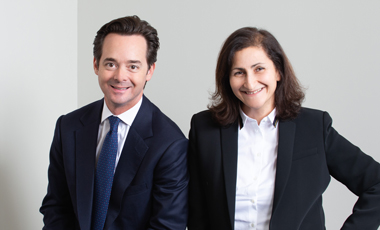 30 years after the creation of Carmignac, the investment philosophy of Carmignac Patrimoine remains the same. David and Rose, as sole Fund Managers, have fully embraced their partnership and are focused on reinforcing alpha generation with specific attention to risk management in this challenging global environment.
David Older & Rose Ouahba's Executive Profiles
David Older joined Carmignac in 2015 as Fund Manager and was later appointed Head of Equities in 2017. Expert on global technology, telecoms and media, his considerable experience in alpha generation and long-short management is key in a challenging environment.

Before joining Carmignac, David Older spent 2003-2015 at SAC Capital/Point72 Advisors in New York, as co-Sector Head of the Communications, Media, Internet and Technology team. Prior to this, David was an Investment Banking Associate in the Communications and Media group at Morgan Stanley. David received a Bachelor of Arts at McGill University and holds a MBA from Columbia University.

Rose Ouahba joined Carmignac in 2007 as Fund Manager to take over the bond component of Carmignac Patrimoine. She was appointed as Head of Fixed Income in 2011. Rose has been reinforcing and reorganizing the team to strengthen our unique "unconstrained" investment philosophy.

She started her career as Bond Fund Manager at Ecureuil Gestion in 1996 and joined IXIS Asset Management 3 years later, as Head of the "Bond diversification" team and, subsequently, Head of Structured Credit Allocation. Rose holds a Postgraduate DESS in Financial Engineering from the University of Paris XII.
Carmignac Patrimoine is the original fund of the Patrimoine strategy. In 2013, we have launched Carmignac Portfolio Patrimoine, a sub-fund of the Luxembourg Carmignac Portfolio SICAV. Carmignac Patrimoine and Carmignac Portfolio Patrimoine share the same investment strategy, portfolio construction and the same management process.